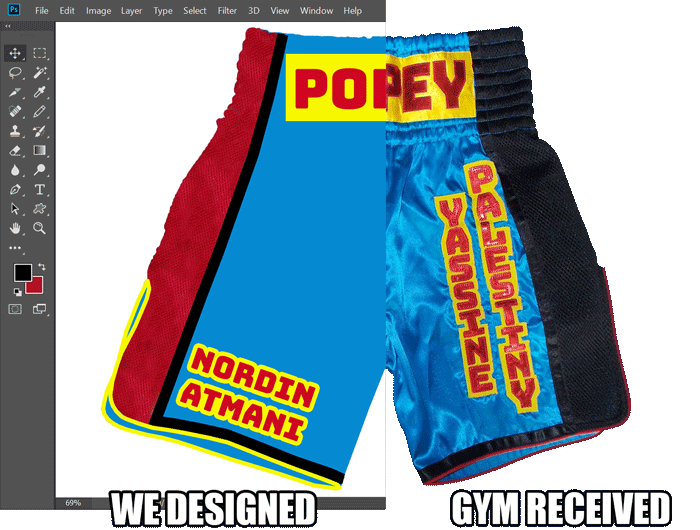 We make the perfect custom boxing short for you or your students
We design and produced many cheap custom boxing shorts in the colors and logos of the GYM's.
But COMBATIK goes one step further, as we are able to put different student names on the custom boxing trunks.
Nothing is more fun than designing your own custom boxing trunks. As we develop your idea or design to a finished short in our workshop. Do not hesitate and customize your own boxing shorts online with us.
Customize your own boxing shorts online
Welcome to COMBATIK, the online martial arts store for custom boxing trunks. We are based in Asia (Bangkok, Thailand). This is the birthplace of Muay Thai martial arts and therefore the main reason why we are based in Thailand.
Not only do we make custom boxing trunks, but you can come to us for any design of fighting pants from kickboxing pants, Muay Thai pants to MMA pants and everything else from cape to jackets for your team.
Thai craftsmanship is one of the best in the world and cannot be compared with other countries. Our workshop employs 25 professionals with an average of 12 years of experience. Professionals are needed for the production of custom boxing trunks.
This says a lot about our quality and the high demand of our custom made boxing shorts. 
With this unique service "custom youth boxing trunks" every student or professional can have a unique custom boxing shorts .
Customize your own boxing trunks and give the gym extra charisma. It can also be a financial boost for your gym, selling this unique custom boxing trunk to your students.
This not also contributes money wise but also it will look more professional and not to mention the feeling of unity regarding your students.
Our dimensions are Western, see size chart. The number of orders does not matter as there is no minimum order. Even if you would just like to order one custom boxing trunk. This will not be a problem.  
Start Customize your own boxing shorts by contacting us, our design team is ready for you.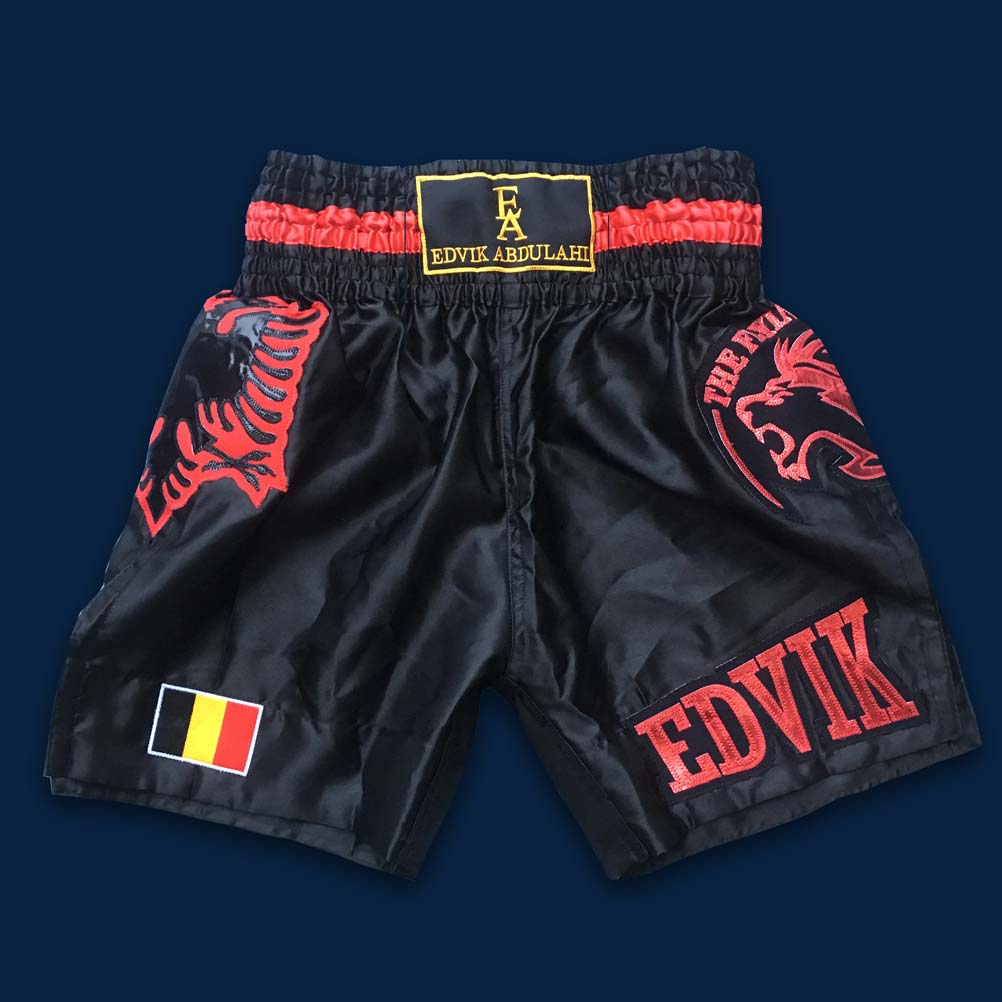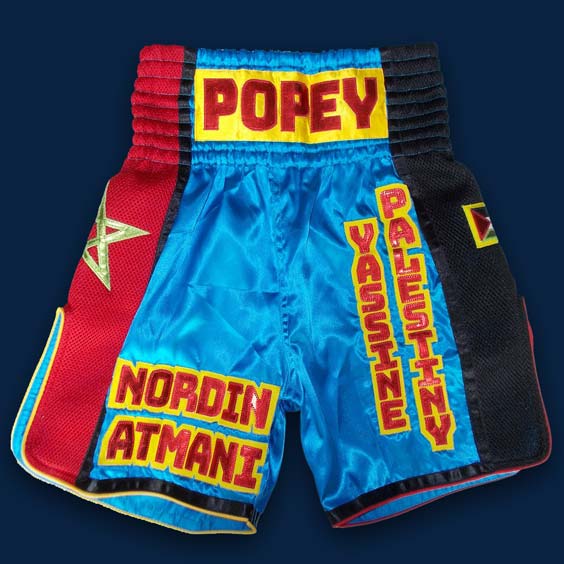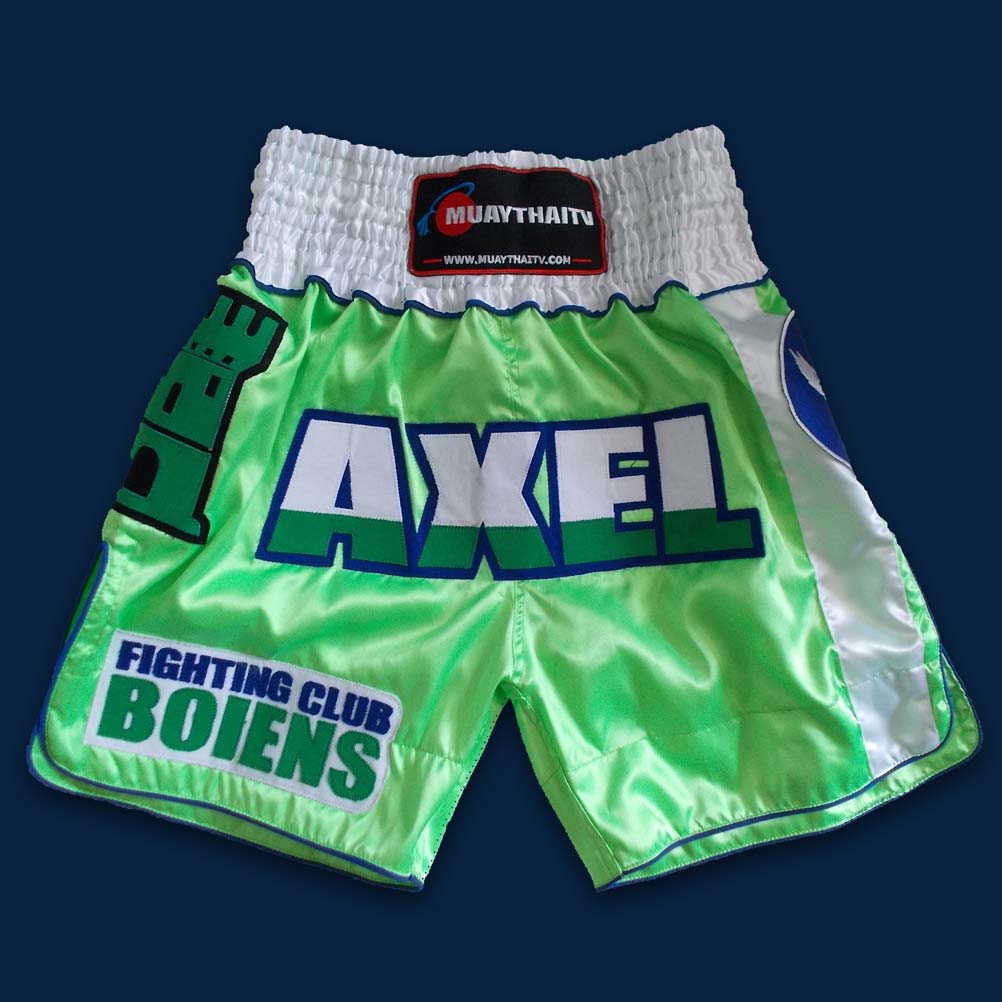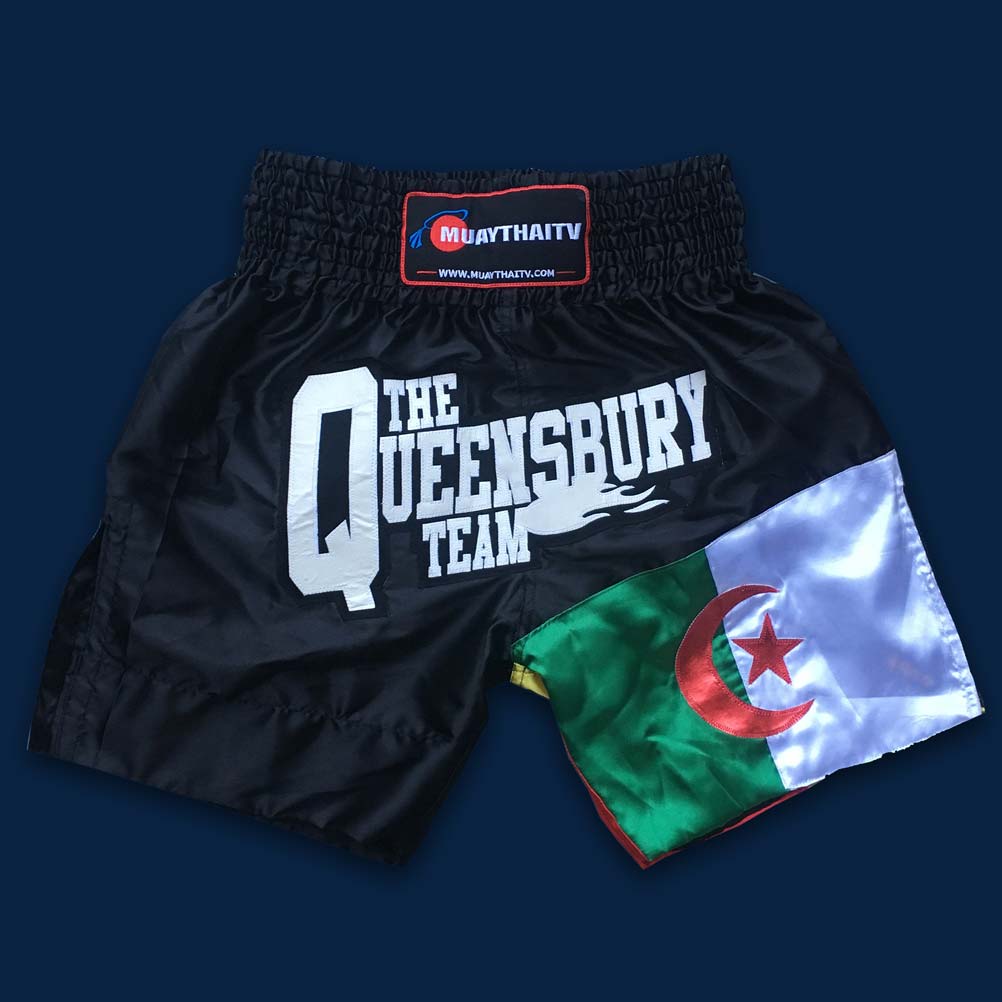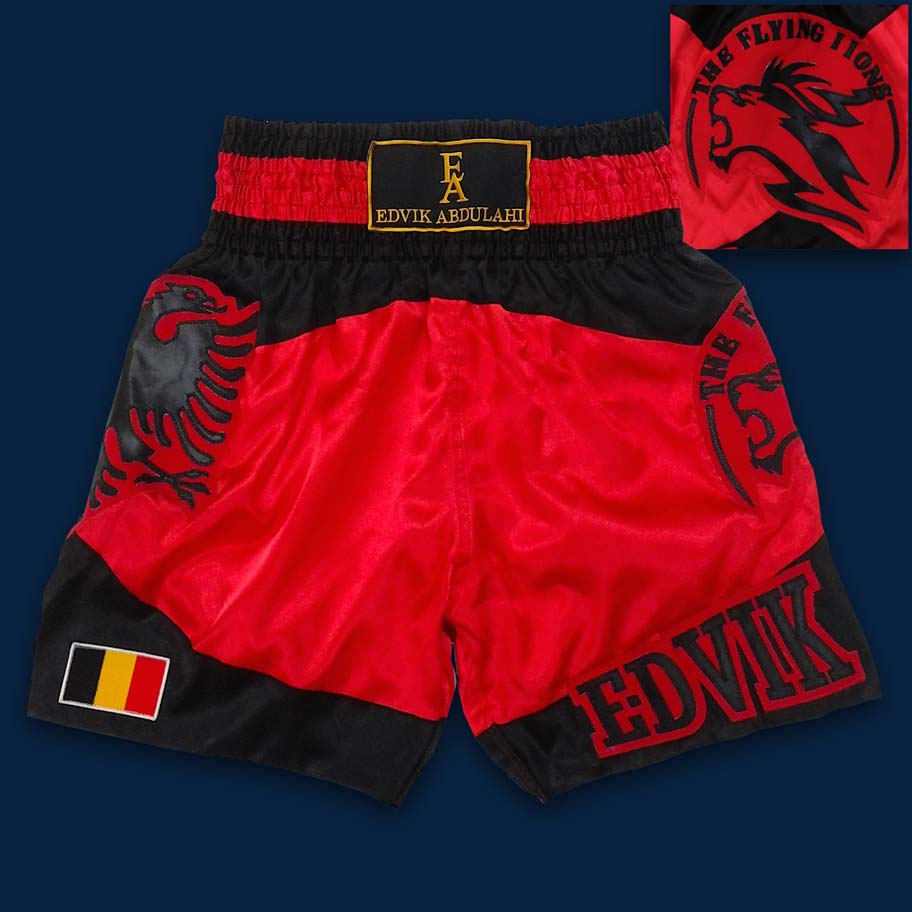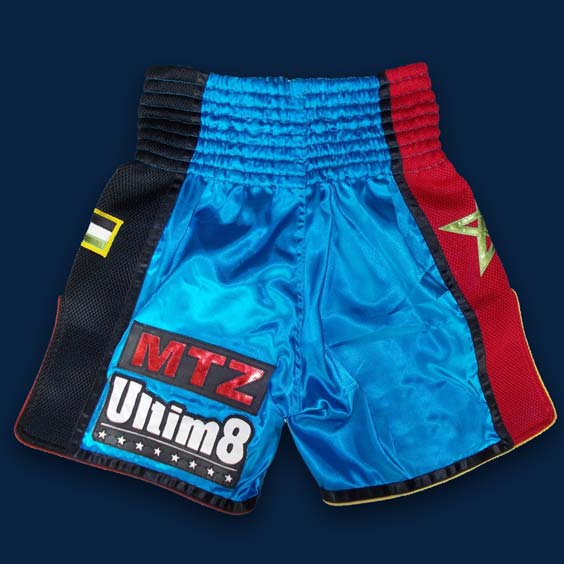 How to order custom boxing trunks
Customize your own Boxing Shorts
What does custom boxing shorts cost
We are based in Thailand. The birthplace of "customized production". However, due to local expertise in the field of Muay Thai shorts, we can also design custom youth boxing trunks. The price that we charge for a custom boxing shorts design is cheaper than a standard boxing pants from the internet.
The prices can be found here. Everyone is welcome, no minimum quantity for cheap custom boxing shorts are required. You can also just order 1 piece specially designed by us and shipped registered. Send us your design and we help you further with the development of your ideas.
Registered shipping included
Registered shipping included
Registered shipping included
Registered shipping included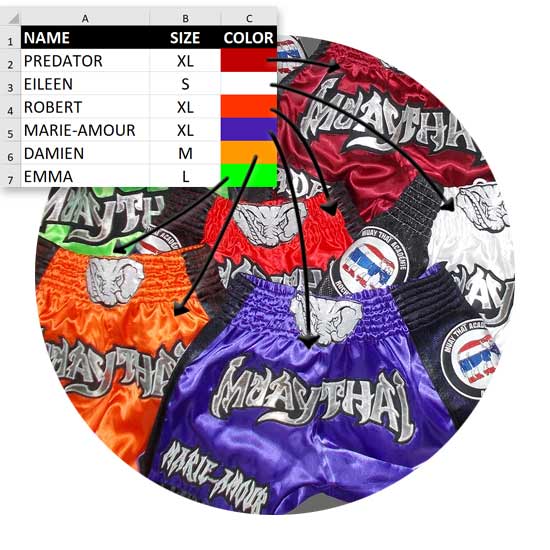 Design a unique custom boxing shorts for every student
All kinds of possibilities
Your idea for custom boxing shorts design will be worked out by our design team and only when you are satisfied will we produce the custom boxing trunks in our workshop.
We have many years of experience in this process. It is communication with the customer and putting the ideas on paper. The design must then be worked out in such a way that our production team can get started to customize your own boxing shorts.
We can fine tune the custom youth boxing trunks for each student according to her or his wishes. Popular choses are the student's name on the custom boxing trunks, the fabric color. This way every boxing short becomes a unique product. Customize your own boxing trunks is more fun.
Design quality control for custom made boxing trunks
Eastern prices, but Western quality
You can compare custom boxing shorts with that of a recipe for cooking. All ingredients must be matched so that we can create  something delicious. If we don't follow the recipe, the dish won't taste. The result "a perfect dish" is the only thing what counts.
In our case it is elaboration your ideas into unique custom boxing trunks ready for production. The end result of the custom boxing trunks should not deviate from what we discussed with you. The  custom made boxing trunk must exceed all expectations.
Our motto with box pants design is: a satisfied customer is a customer for life.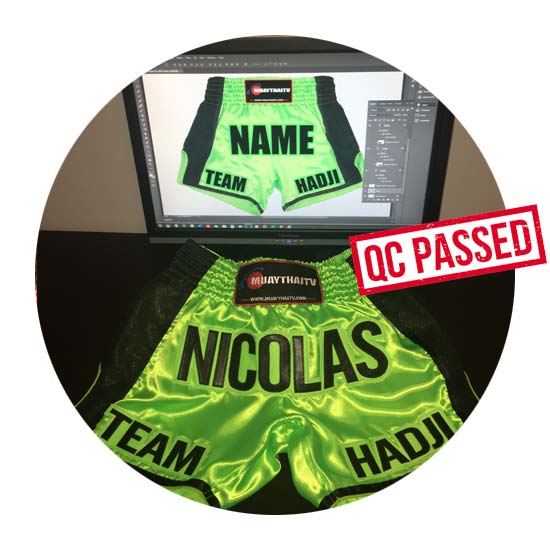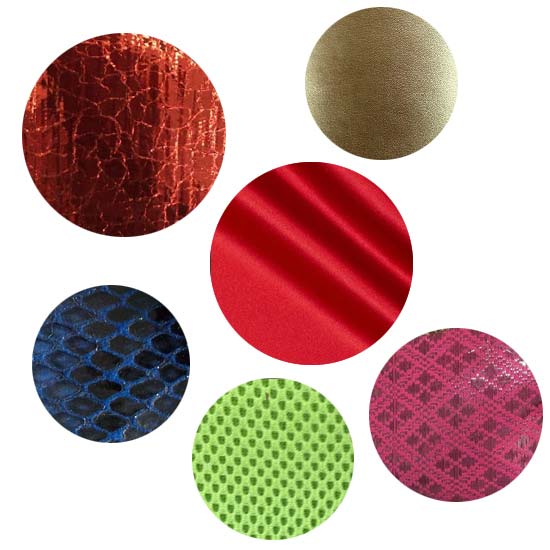 The materials and fabrics that we use in customize your boxing shorts
With us is a wide selection of materials and fabrics that we can use to custom boxing trunks online. There are too many to put on the website.
Our design team has many years of experience and they will be able to assist you in putting together the fabric and materials used for the production of affordable and cheap custom boxing shorts.
The fonts for the boxing shorts design
By customize your boxing shorts the choice of the fonts is very important it will determine the "look" of the custom made boxing trunks.
One will be able to choose from a variety of fonts. The only thing you will have to take into account is the length of the text. Our design team will also be able to advise you.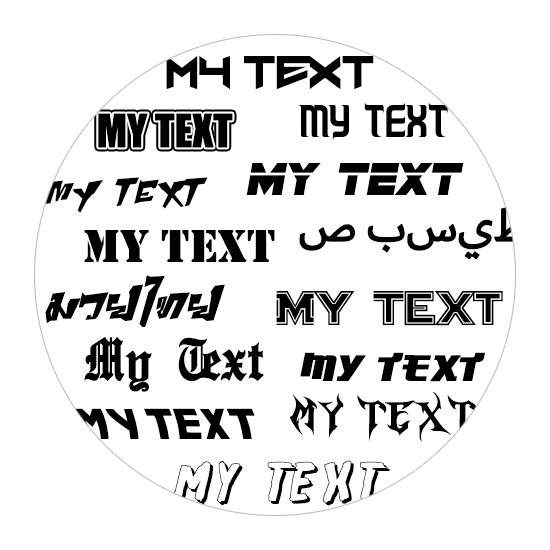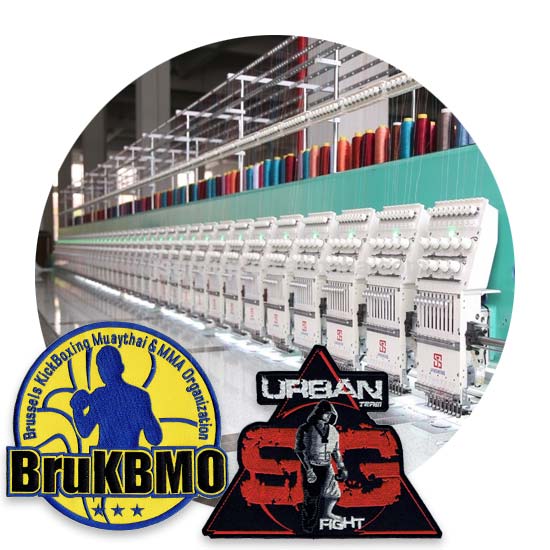 Design the club logo for the custom boxing shorts
Pads and embroidery are, just like the font, very important choices in customizing your own boxing trunks . These give the custom boxing briefs their own identity.
This extra service is included whatever the quantity ordered. We also have standard pads in stock. If interested, we are happy to make a selection for you.
Thanks for the good communication, the design is exactly as we discussed and the quality of the 35 fighting shorts are perfect. Everyone is very enthusiastic and especially that every pair of pants has a different name is fantastic. Until the next order. (translated from french)
Top quality and thanks for delivering this unique product! The boys are very enthusiastic. Especially the gimmick that everyone has their own name on the pants is great. Very interesting for the professional FT team boy. You will certainly hear more from us !! (translated from dutch)
I was looking for an original gift for my sister's birthday and ended up here by coincidence. Now it is true that she is completely crazy about boxing. That's why I had a pink Hello Kitty designed. The result was fantastic, thanks for the creative idea and the result.